Famine and Foreigners
Ethiopia Since Live Aid, Peter Gill, Oxford University Press.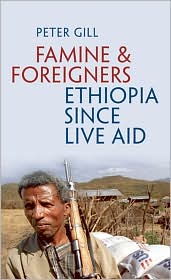 "No country in the world confronts the threat of famine more painfully and more frequently," writes Peter Gill about Ethiopia, a landlocked country in the Horn of Africa best known for its famines and long-distance runners. In "Famine and Foreigners" the author—a journalist specializing in developing world affairs—aims to answer the question: Is hunger becoming history in Ethiopia?

Predictably, the answer is no, though significant strides appear to have been made since the famine of 1984, which inspired the global charity rock concert Live Aid. Ethiopia was officially the hungriest country in the world in 1991, according to the Global Hunger Index. By 2009 it had risen six places, although it remained in the extremely alarming category, notes Gill. (Currently the Democratic Republic of Congo is considered the hungriest country on the planet, followed by Burundi, Eritrea, Sierra Leone, and Chad).
Certainly the country fared better during the famine of 2003 than it did during the crises of 1984 and 1973 (the latter documented in the film The Unknown Famine). Government and donors alike were more prepared, though it certainly helped that thousands of containers of American wheat intended for Iraq were diverted. How much better prepared the country is today isn't easy to discern, but Gill makes a noble effort, conducting interviews with everyone from Prime Minister Meles Zenawi to dignified but still-hungry farmers.
One gets the sense, however, that the worst may be yet to come, if only because of Ethiopia's failure to bring down its population growth rate. Believe it or not, the population of Ethiopia has doubled since 1984 to more than 80 million, and the population is expected to double again in 25-30 years. The country's often unforgiving agricultural environment simply cannot continue to sustain fertility rates of six or seven children per woman, making population control vital to any stop-hunger campaign.
Gill sums up the obstacles as follows: "Beyond the challenges of famine forecasting and hunger relief, are there Ethiopian political institutions and policies in place to deliver the transformation known as development?"