Evel
The High-Flying Life of Evel Knievel: American Showman, Daredevil, and Legend.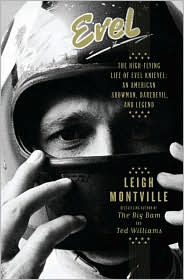 Everyone has heard of Evel Knievel the daredevil—the real-life action hero in the red, white, and blue cape who attempted to jump the iconic fountains at Caesars Palace on his motorcycle, and later launched himself over Idaho's Snake River Canyon on a homemade rocket-powered "Sky Cycle." In the new biography, "Evel," veteran sportswriter Leigh Montville takes the reader beyond Knievel's death-defying stunts to tell the life story of a man who carried a Wild Turkey-filled cane, a man whose failures—both personal and professional—made him a household name in the 1970s.
To be sure, Robert Craig Knievel's hometown of Butte, Montana—a place where fast-living was the norm—played a significant role in the formation of his temperament and personality. More surprising is that before he became Evel, Knievel was a wildly successful insurance salesman for the Combined Insurance Company, an outfit headed by W. Clement Stone, who co-authored the widely-read personal development classic "Success Through a Positive Mental Attitude." Believe it or not, Knievel wholeheartedly embraced the company's rah-rah mentality—not to mention Stone's aphorisms, which included: "Aim for the moon. If you miss, you may hit a star."
Of course, after Knievel's first professional daredevil show—when he jumped over a pair of lethargic mountain lions and a cardboard box filled with angry rattlesnakes in Moses Lake, Washington—a career change was inevitable. In fact, that jump set the tone for the rest of his showman days, as his motorcycle clipped the box and all the rattlers slithered out (and made their way toward the crowd). The lesson learned from this minor disaster? A show that went badly was considerably more compelling than one that went well.
But fame and fortune proved elusive for Knievel, at least until his failed attempt to jump the fountains in front of Caesars in Las Vegas on December 31, 1967. Critically, his spectacular crash was captured on film by John Derek and Linda Evans—the footage aired repeatedly on ABC's Wide World of Sports and countless newscasts around the world, turning Evel into a megastar.
While one might expect Knievel to have been an exceptional motorcycle rider, the interviews conducted by Montville seem to indicate that was not the case. Nor was he much concerned about safety measures, hence the frequent crashes and litany of other debilitating injuries, including countless broken bones.
Considering Knievel's lifestyle, it's remarkable he lived until the ripe old age of 69 (dying from pulmonary thrombosis in 2007), though he was "a mess" for the last ten years of his life, overcome by the residual effects of all the injuries and surgeries, as well as the rebellion of his liver, which was ravaged by hepatitis C and alcohol abuse. Fittingly, the extra-large headstone marking Knievel's grave at Butte's Mountain View Cemetery highlights his daredevil career and features the following missive: "A Man Can Fall Many Times In Life, But He's Never A Failure If He Tries To Get Up."
Related content:
Evel Dead