Endgame
Bobby Fischer's Remarkable Rise and Fall—from America's Brightest Prodigy to the Edge of Madness, Frank Brady, Crown.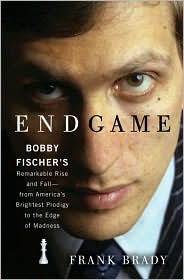 "Endgame" tells the rags to riches to recluse story of American chess prodigy Bobby Fischer, who overcame a childhood lived in poverty to become World Champion, only to choose a life of self-imposed exile, squandering his talent and compromising his vast earning potential. Fortunately for the reader, there is perhaps no one better equipped to tell Fischer's story than Frank Brady—former executive director of the U.S. Chess Federation, founder/editor of Chess Life magazine, and author of "Profiles of a Prodigy" (1965)—who counted Fischer as a childhood friend, and interacted with him on a personal and professional level over the course of two decades. In his role as biographer, Brady clearly benefits from having played hundreds of games of speed chess against Fischer, especially in regards to communicating how his subject developed into a brilliant player.

This isn't to say that the reader has to know chess to enjoy "Endgame." There are no diagrams, no openings, and no analysis of Fischer's games. Brady keeps the focus on the arc of Fischer's life story, with highlights including: His defeat of international master Donald Byrne in 1956 (dubbed the Game of the Century); his perfect 11-0-0 record at the U.S. Championships in 1964; and his victory over Russian World Champion Boris Spassky in Iceland in 1972, which triggered a chess boom in the United States.
What is most impressive about Brady's effort is how he deftly handles Fischer's post-World Championship years, highlighting the enigmatic celebrity's oft-unseemly behavior and frequently appalling public comments without being judgmental. Among other things, Brady explains why Fischer became anti-American and stopped paying taxes. He also addresses: why Fischer became anti-Semitic; his contentious relationship with the media; and what possessed him to refuse millions of dollars in endorsements and appearance fees. Not to mention why Fischer publicly applauded the 9/11 attacks, and refused medical treatment (dialysis) that could have prolonged his life.
All told, "Endgame" should find a wide audience, appealing to everyone from those that appreciate chess, to those who are riveted by stories of the distorting effects of fame and celebrity.