Don't Know Much About Literature?
by Kenneth C. Davis and Jenny Davis.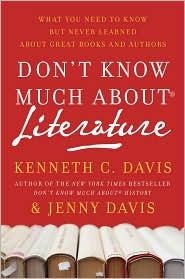 "What you don't know about great books would make a really great book!" That's the authors' stated motivation for creating "Don't Know Much About Literature," the latest in Kenneth C. Davis' Don't Know Much About® best-selling book series.
This collection of one-page quizzes—each quiz devoted to a theme, author, or classic book—is designed to introduce (or re-introduce) the reader to some of the world's most important writers and their works. From Chaucer to "Charlotte's Web," Jane Austen to J.K. Rowling, and Virginia Woolf to V.S. Naipaul, Kenneth and his writing partner (his daughter Jenny), challenge readers with questions about their favorite characters, stories, and authors (before providing the answers on the following page).
It's all well and good if you've read a lot of classic and popular literature. But readers who are unable to answer the questions may come away feeling guilty about being literature illiterate. I suppose that's the point, though. What better way to motivate readers than to test their intellectual mettle and spark their literary curiosity.