Crazy Things Parents Text
Stephen and Wayne Miltz, Sourcebooks.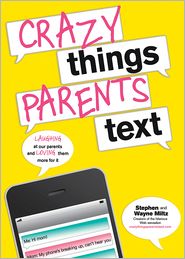 Crazythingsparentstext.com isn't the only site that collects user submitted parent-offspring texts, but it is the best. Likewise the book "Crazy Things Parents Text" is very entertaining. As one might expect, it begins with parents' first efforts, as in "Mom's First Text," which reads: FROM MOM: Hi Honey. I AM MOM.
But it's the "insexts" from chapter 2 (I Meant to Send That to Your Father) that are arguably funniest—and no doubt left the recipients scarred for life. Example:
Mom: I can't wait until you get home from the game because I have a naughty surprise for you ;)
Me: MOM!!! WTF!! This is your son!!
Mom: OMG hi honey did you win your game?
Of course, dads aren't immune from "sex texting" either:
Dad: I want to see you every morning in the kitchen ass naked in heels making waffles.
Me: Stop sending me these texts. This is your daughter not your girlfriend.
Then there are the texts that can be categorized as: Did you really just text me that?!
Dad: Just spent a half an hour trying to take you mom's bra off. I wish I'd never tried it on!
Finally, there's the parents who are clueless about social media:
Mom: I saw your twat pic you posted it was cute.
Me: What?
Mom: Isn't that what you said pictures on Twitter were called?
The book includes hundreds of other gems. As does crazythingsparentstext.com.
Related content:
When Parents Text