Colonel Sanders
Kentucky Fried Chicken and the American Dream, Josh Ozersky, University of Texas Press.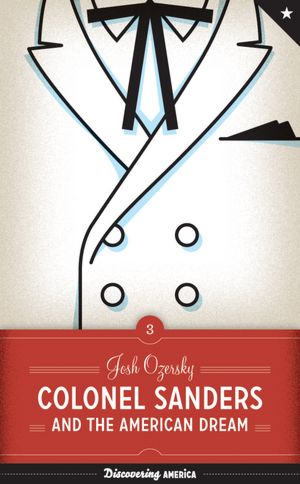 Harland Sanders failed at job after job until he went into business for himself and opened a service station/café/motel in rural Kentucky. For twenty years afterwards he lived a comfortable middle-class life. Then in 1955, when he was sixty-five, a new interstate bypassed Sanders Café, and his business was no longer viable.
In "Colonel Sanders," the third book in Mark Crispin Miller's Discovering America series, Josh Ozersky tells the story of how Sanders then took to the road with a pressure cooker and began peddling the recipe for his Kentucky Fried Chicken. As we now know, he ultimately succeeded in transforming himself into "The Colonel," and built a brand that's recognizable around the globe. It's a fascinating American Dream story, one that should be especially interesting to readers under the age of thirty, who likely aren't aware that Colonel Sanders was a real person.
Yet even middle-aged readers may experience numerous "Today I Learned" moments in the course of reading the book. Consider the following:
- For the longest time Harland Sanders wore black suits; he adopted his signature white suit only after television producers advised him that the white suit made him stand out.
- Pete Harmon, KFC's first franchisee, thought of the name Kentucky Fried Chicken. He also conceived of Kentucky Fried Chicken as a stand-alone restaurant, invented the bucket, and created the slogan "finger-lickin' good."
- Kentucky Fried Chicken tried launching a chain of Kentucky Roast Beef & Ham restaurants in 1969; the idea was a bust and most of the stores were quickly shuttered. A chain of Colonel Sanders Inn's also failed.
- Kentucky Fried Chicken inspired its share of imitators, including All-Pro Chicken, Chicken Hut, Maryland Fried Chicken, Ozark Fried Chicken ("Miss Alma's Recipe"), Cock-A-Doodle of America, Pail-O-Chicken, Wife-Saver Chicken, Chicken Unlimited, and Ron's Krispy Fried Chicken. Popeye's, Bojangles, and Church's still survive today.
- One can purchase 99X chicken seasoning online, which is almost exactly the same formula as Kentucky Fried Chicken's "original blend of 11 herbs and spices."