Charles M. Schulz
M. Thomas Inge (editor), University Press of Mississippi.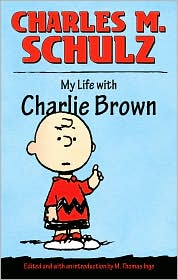 "I do not regard what I am doing as Great Art," wrote Peanuts creator Charles Schulz in 1975. Of course, that didn't prevent Schulz (1922-2000) from becoming one of the most widely known and beloved cartoonists in history.

In "My Life with Charlie Brown," editor M. Thomas Inge brings together many of the articles, lectures, and commentaries that Schulz delivered over the course of his 50-year career. Beginning with an autobiographical chapter covering his early years, Schulz goes on to address the themes of modern life, philosophy, and religion that he went on to explore in Peanuts. "The intent of the collection is to round out the portrait of the man as he saw himself," advises Inge in his five-page introduction.
Naturally, Schulz also reveals much about his unique perspective on his own work. In a 1969 article from Saturday Review he opined: "It has always seemed to me that [Peanuts] has a rather bitter feeling to it, and it certainly deals in defeat." Yet Schulz wasn't bitter about the public's relative lack of regard for comic-strip artists, freely admitting that they occupy a very low rung on the entertainment ladder.
However, the book's most compelling insights concern Schulz's feelings about the Peanuts characters, including Linus, Lucy, Snoopy, and the gentle, accepting loser Charlie Brown. Among other things, he reveals the inspiration for his characters, as well as his rationale for continuing (or discontinuing) them. Inge and the Schulz estate also include select published and unpublished illustrations, which serve to remind the casual reader how well Peanuts has stood the test of time.
Notably, Schulz would never have achieved his outsized success without a certain amount of persistence and determination, as his early submissions to major magazines generated only the ordinary rejection slips and no encouragement. So it's no surprise when he attributes his good fortune to his highly competitive nature and lifelong love of his profession. Often asked if he ever dreamed that Peanuts would be as successful as it was, he says, "I did expect it, because, after all, it was something I had planned for since I was six years old."