Bottom of the 33rd
Hope, Redemption, and Baseball's Longest Game, Dan Barry, Harper.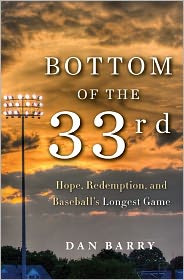 The longest game in baseball history almost never happened at all, thanks to malfunctioning light towers at McCoy Stadium, home of the Pawtucket (Rhode Island) Red Sox. But the April 18, 1981, contest against the visiting Rochester Red Wings eventually did get underway—a half-hour late at 8:02 p.m., with 1,740 fans in attendance. The International League game would continue until 4:09 a.m. the next morning—Easter Sunday—before finally being suspended after 32 innings, the score tied at 2-2, with just 19 fans and two reporters still on hand.
In "Bottom of the 33rd," New York Times columnist Dan Barry recounts the protracted affair. While the details of the game are mostly uninteresting, many of the men who played in the contest are compelling figures. Future Hall of Famer Cal Ripken Jr. (who holds the record for consecutive major league games played at 2,632) manned the hot corner for the Orioles' farm team, going 2 for 13. And fellow first-ballot Hall of Famer Wade Boggs went 4 for 12 for Pawtucket, the Triple-A affiliate of the Boston Red Sox.
Other players are remembered—if remembered at all—for their failures. Pawtucket designated hitter Russ Laribee struck out seven times in the game en route to an 0 for 11, though he did hit the sacrifice fly that tied the score in the bottom of the ninth. (Laribee went on to play baseball in Italy for one year, then retired to become a door-to-door vacuum cleaner salesman.) And outfielder Drungo Hazewood, a first round draft pick of the Orioles, went hitless too, 0 for 4, just like he did in the one game he started in the majors, except he struck out all four times that fateful day.
One may wonder why the game in question wasn't suspended hours earlier. After all, International League bylaws and rules prescribe that no inning start after 12:50 a.m. However, the relevant section of the "1981 International League Instructions for Umpires, Managers and Players" was accidentally omitted that year, so chief umpire Jack Lietz ordered the game to continue. (Ultimately, League president Harold Cooper called from his home in Ohio and ordered the game suspended, hence the stoppage after 32 innings.)
The contest wasn't resumed until months later—June 23rd to be exact—and came to a conclusion just 18 minutes after being restarted when Pawtucket's Dave Koza blooped a ball over Ripken's head, allowing Marty Barrett to score the winning run.
By characterizing the book as "a lyrical meditation on small-town lives [and] minor-league dreams" and an "unforgettable portrait of ambition and endurance," Barry attempts to broaden its appeal. But make no mistake, "Bottom of the 33rd" is about a really long baseball game—and for baseball enthusiasts only.