Battle of the Band Names
The Best and Worst Band Names Ever, Bart Bull, Abrams Image.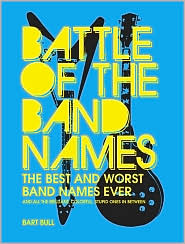 Looking to name your new reggae outfit Ranking Dread? Taken, dude. How about dubbing your tribute act Def Repplica? Sorry man, it's been done. Have designs on creating a new sound called noisecore? Whoops, already exists. Better check out "Battle of the Band Names" before your band settles on a moniker—or genre.
Penned by Bart Bull, a former editor at SPIN and Details, "Battle of The Band Names" takes The Name Game chapter of "The Book of Rock Lists" and expands it exponentially. Covering almost every musical style, this obsessive, smart-ass, and at times uproarious collection is made up of long lists of band (and artist) names, organized under 35 chapter headings. Marketed as a resource for musicians brainstorming for a handle, the judgments made here have nothing to do with commercial success. If they did, "… probably the eighth best band name ever would be Celine Dion, and [then] we'd all know … that the Book of Revelations was kicking full effect," quips Bull.
"Battle …" opens with a sampling of the "worst"—names that range from the banal (like Business Card and Menswear) to pun-loving (William Penn and His Pals) to the downright painful (Milton Brown and His Musical Brownies). Some of the acts listed eventually came to their senses. Surely you remember Elston Gunn and His Rock Boppers, and Dr. Zoom and The Sonic Boom, right? If not, you may be familiar with their later manifestations—Bob Dylan and Bruce Springsteen and the E Street Band, respectively.
Most of the major headings are eminently predictable (Folk, Ska and Blues, for example), but there are several imaginative groupings, including "Keep it Short, Stupid" (names of five letters or fewer), and "Location, Location, Location" (which, of course, invokes geography). Bull breaks up the monotony by constantly switching fonts, font sizes and page colors. For instance, the girlish print and pink paper of "Teen Idols" is in sharp contrast with the black paper and menacing-looking type that dominates "Metallurgy," a chapter that itemizes almost every hybrid of the genre, including death metal, dark metal and doom metal. (Don't ask me to explain the difference.)
But the best chapter—or at least the one that provides the biggest laughs—is devoted to tribute bands, with over 20 pages dedicated to the little-known but proud-as-hell imitators. Among ABBA's 33 tributes are ABBalicious, Bjorn Again and ABBA Dabba Doo. For its part, AC/DC has no fewer than five all-female impersonators, including AC/Dshe, Hell's Belles and American Thighs. But KISS takes the top prize for having 85 or so tributes, including Gene's Addiction (featuring four Gene's) and Klown, whose members wear—you guessed it—clown suits. Believe it or not, there are even three midget KISS tributes.
While it takes a while for him to get there, Bull eventually gets around to revealing the Best … Band … Names … Ever—a list that includes Nine Inch Nails, Dearly Beheaded, Free Beer and I Spit on Your Gravy. Notably, Judas Priest is listed twice—perhaps Bull's way of indicating that, in his mind, Priest is the single best band name in music history.
For better or worse, though, Bull can't resist imparting suggestions outside the scope of choosing a name, advice along the lines of: "No rehearsing drum solos at rehearsals," and "Never Let Your Mom Take Your Band Photo!" But that doesn't change that fact that carefully considering one's moniker is sound advice. "So choose wisely, Grasshopper. Choose ever so wisely," concludes Bull. And for goodness sake, don't call yourselves The Zoofs or Beaver Cleaver and the Retrievers (featuring the Fevers). Those mistakes have already been made.