Au Revoir To All That
Food, Wine, and the End of France, Michael Steinberger, Bloomsbury.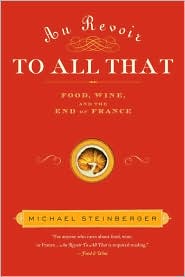 Three months after the release of the hardcover edition of "Au Revoir To All That," McDonald's announced it would be opening a restaurant in the food court of the Louvre, already home to several fast-food establishments. As Michael Steinberger demonstrates in this genial book (now in paperback), the highly symbolic encroachment of McDonald's into France's preeminent museum is just one of many indicators pointing to the decline of French food culture. And it's not only the reputation of the country's food, wine and cheese that is suffering. French writing, art, music, film, and perhaps even fashion, is no longer as notable or influential as it was in the past.
Steinberger isn't the first writer to highlight France's malaise. Scores of authors, known collectively as les déclinologues, have publicized the nation's recent troubles, issuing bluntly-titled books like "Doomed France," "Bankrupt France," "Scared France" and "France in Freefall." For his part, Steinberger focuses on the country's gastronomic crisis, interviewing chefs, restaurateurs and business people, who blame the decline on a combination of factors: economic suffering, excessive government regulation, high taxes, and most notably, the influence of the century-old Michelin Guide, which rates restaurants, ostensibly on the quality of their food. (Aside from Michelin's lack of transparency in regard to its rating methods, the most common complaint is a perceived overemphasis on atmosphere and setting, which has led restaurants to spend unsustainable sums prettifying their dining rooms and rest rooms, thereby diverting money and attention from food quality.)
But the trouble with French food doesn't begin and end with its restaurants. According to Steinberger, many popular French cheeses — including Camembert, the most popular fromage — face an uncertain future, and several obscure varieties are no longer produced at all. Meanwhile, French wine culture has been in retreat for several decades, and if Steinberger's reporting is any indication, French youth are largely indifferent to their country's gastronomic heritage. Twenty-five years ago, who would have guessed that France would be the second-most profitable market in the world for McDonald's?
Despite acknowledging that [w]e will never return to a time when France is the world's unrivaled gastronomic colossus, Steinberger is not entirely pessimistic about the nation's food future, noting that its finest wines are still universal benchmarks, and that it has not lost its ability to manufacture gifted chefs. Then again, he closes the book by invoking the words of Parisian restaurateur Gérard Allemandou, who imagines that a culinary renaissance — if there is one — will be sparked by an immigrant, much as Zinedine Zidane reinvigorated French soccer. "Here's hoping [someone] does [start a food revolution]," concludes Steinberger, "so that French cuisine will once again flourish and enjoy a future as glorious as its past."