Above the Rim ... and the Law
Out Of Bounds: Inside the NBA's Culture of Rape, Violence, and Crime, Jeff Benedict, HarperCollins.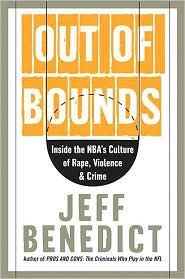 In 1998, investigative journalist Jeff Benedict released "Pros and Cons: The Criminals Who Play in the NFL," which revealed that lawless behavior was disturbingly common among professional football players. Prepare to be even more disturbed. In "Out of Bounds," Benedict takes on the NBA, delivering 250 pages on the "who, what, when, and why" of criminal activity in pro basketball. Believe it or not, NFL players look like choirboys compared to the young men who play hoops for a living.
As was the case with "Pros and Cons," Benedict's latest work is blunt and straightforward. "Out of Bounds" obsessively chronicles the bad behavior—everything from drug possession and armed robbery to weapons possession, assault, and rape—of numerous NBA stars. Meanwhile, the author attempts to explain why so many basketball players feel above the law, and how these same men always seem to escape accountability for their actions.
While there are plenty of unseemly stories to make the unenlightened gasp, "Out of Bounds" suffers from being entirely one-dimensional. Benedict makes no attempt to contrast the relentless string of depressing stories by suggesting possible solutions or relating hopeful vignettes. If nothing else, readers will come to appreciate why basketball fans in Oregon began referring to the Portland Trailblazers as the Portland Jailblazers.