About Africa
Africa: Altered States, Ordinary Miracles.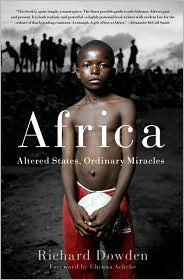 When Americans think of Africa they inevitably conjure up images of starving children and young men with AK-47s. The Western media is largely to blame for this myopic view of the continent, though the aid industry—which has a vested interest in highlighting the worst of the worst—deserves its share of criticism as well.
An American looking for a fair and balanced view of sub-Saharan Africa couldn't do much better than Richard Dowden's "Africa: Altered States, Ordinary Miracles." Dowden—director of the Royal African Society and former Africa editor for both the Independent and The Economist—has been reporting on Africa since the early 1970s. In this epic book he takes the reader everywhere from Idi Amin's Uganda to Black Hawk Down-era Somalia to genocide-scarred Rwanda. (In due course, he also explores Zimbabwe, Sudan, Angola, Burundi, Senegal, Sierra Leone, Congo, South Africa, Kenya and Nigeria (the "failed state that works"), as well as the impact of AIDS and the ever-growing influence of Asia.
A mixture of history and personal vignettes, Dowden paints a portrait that is as complex and fascinating as the continent itself. Even readers who are well-versed in African affairs will find new and novel themes, no doubt leading to a more complete understanding of the wide variety of countries and conflicts Dowden has experienced. Chinua Achebe—who contributes the foreword—sums it up best when he observes that reading "Africa" is a little like "walking in borrowed literary shoes … a welcome addition to a growing library of serious critical analysis of Africa."