A Serial Killer in Nazi Berlin
The Chilling True Story of S-Bahn Murderer Paul Ogorzow, Scott Andrew Selby, Berkley.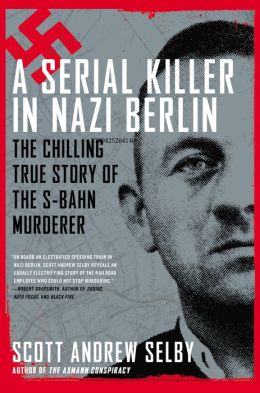 If it weren't for his secret need to harass, stalk, rape, and murder German women, Paul Ogorzow might have been considered a model Nazi. A loyal Party member who supported his wife and family by working for the Berlin railroad, Ogorzow spent his free time beating up people Nazis considered undesirable, part of his job as a Storm Trooper for the Nazi paramilitary organization Sturmabteilung. Nevertheless, he became an enemy of the state, as he took advantage of the blackout regulations (mandated by the government in 1939, in anticipation of allied bombing attacks) to commit crimes against women on Berlin's pitch-dark streets. Between 1939 and 1941 Ogorzow killed eight individuals—including five on the city's above-ground railroad—earning him the moniker S-Bahn Murderer.
In his latest page turner, "A Serial Killer in Nazi Berlin," author Scott Andrew Selby recounts Ogorzow's life and crimes—crimes which would have been galling in any time or place, but were especially upsetting to Nazi leadership, who couldn't afford to have a serial killer terrorizing women while the city's men were away fighting for the Fatherland. This explains why the Third Reich issued a "Decree Against Public Enemies," under which a crime—even a petty offense—could carry a death sentence if the accused was charged with exploiting the special conditions of war, like blackouts and a lack of police supervision. It also explains why the Nazis tried to censor news of Ogorzow's attacks, even as the Berlin criminal police conducted a resource-intensive manhunt, at one point arranging for men to ride the S-Bahn dressed in drag, hoping the killer would mistake one of the cross-dressing officers for a woman, thereby making himself known to authorities.
Selby systematically describes and relates the circumstances surrounding all of Ogorzow's major attacks, which became increasingly violent and deadly as he gained experience. Ogorzow (born Paul Saga, but adopted by a man named Johann Ogorzow), assaulted women in a variety of ways in a variety of locales, yet his signature assault included bludgeoning a woman and throwing her from a moving train. Ironically, Ogorzow volunteered for—and was accepted into—a program instituted by Minister of Propaganda Joseph Goebbels, in which unaccompanied females were provided Storm Trooper escorts while riding the S-Bahn. In effect, Ogorzow was charged with protecting women from himself, which he did, faithfully.
Berlin police caught a break when one of Ogorzow's co-workers told authorities he'd seen a man leave his post at a railroad signal tower, only to return before his absence was noticed by superiors. (Though police had looked carefully at railroad employees, Ogorzow was initially dismissed as a possible suspect because he was supposed to be at work at the time of the attacks.) The authorities brought Ogorzow in for formal questioning on July 12, 1941, and he soon admitted to leaving work while on duty. More incriminating still, the police found blood spatter on his uniform jacket. Within days, Ogorzow confessed to the murders. He was indicted on July 23, tried and convicted on July 24, and executed (by guillotine) at Plötzensee Prison on July 25—swift justice, even by Nazi standards.
Make no mistake, "A Serial Killler in Nazi Berlin" is a very dark book, yet it's a fascinating look into the mind of a killer. It's well suited for anyone who enjoys reading about true crime—or the history of Nazi Germany.
Related Content:
S-Bahn Murder Victims, Timeline
The Axmann Conspiracy: The Nazi Plan for a Fourth Reich